Photography instructor Bassam Lahoud teaches students to freeze movement.
Students at work in the new fashion design studio.
In pictures —
For the first time in the region's history, LAU brings together medical professionals to discuss how to improve medical education in order to enhance patient safety.
Tomb restoration project highlights India's rich Islamic heritage … and aids the community, becoming an example to the world.

Fall 2014
The culture of giving by members of the university's community results in financial assistance to deserving students. Discover how.
Advising for current students for spring 2015

Dec 3–19, 2014

Last day for intercampus transfer for spring 2015 for all students

Dec 11, 2014

See the Academic Rules and Procedures:

Registration for current students for spring 2015

Dec 15–19, 2014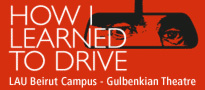 Major Theatre Production: "How I Learned to Drive"
Dec 4–13, 2014 8:30 PM
Gulbenkian Theatre, Beirut campus