The holiday spirit takes over LAU Byblos!
Staff and students from different disciplines train before a hike trip to Kilimanjaro to promote and raise funds for the exoskeleton project developed by the School of Engineering.
Iranian graphic designer Homa Delvaray spent four days at LAU, presenting her work and guiding print-focused graphic design students through the production of personalized posters.
Lina Khoury's daring new production of Paula Vogel's award-winning play leaves audiences awash with emotion.

Fall 2014
Six young and talented graduates of LAU 's architecture program are this year pursuing postgraduate studies at high profile universities in the U.S.A. and U.K. We unfold the reasons behind their decision.
Advising for current students for spring 2015

Dec 3–19, 2014

Registration for current students for spring 2015

Dec 15–19, 2014

Fall 2014 classes end

Dec 23, 2014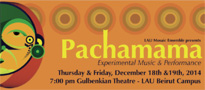 Major Music Production: "Pachamama"
Dec 18–19, 2014 7:00 PM
Gulbenkian Theatre, Beirut campus